America's deadliest school violence? Not Columbine, but Bath, Mich., in 1927
(Read article summary)
The Bath School disaster of 1927 remains the deadliest killing spree at a school in America.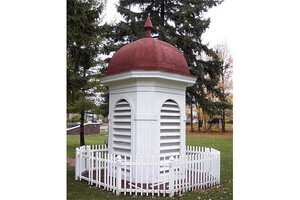 James Daggy/Michigan State University
Sometimes it feels like the mass violence of our modern age is something devastatingly new for America. History shows that's not the case.
In 1927, a single man's outbreak of violence in a small Michigan town took the lives of 45 people, including 38 children. The Bath School Disaster became the nation's deadliest killing spree at a school, and it still holds that distinction today.
A few years ago, Chicago author Arnie Bernstein went to Bath Township, Mich., near Lansing, to tell the story of the day that a local farmer and school board member – for reasons that are still unclear – used dynamite to destroy the town's school and kill many of its inhabitants. While the rest of the country promptly forgot about the tragedy – one of the century's biggest news events distracted the nation shortly after it happened – he discovered that the scars remain.
But there was more to find than heartache.
In an interview this week, Bernstein, author of 2009's "Bath Massacre: America's First School Bombing," describes a community's strength and the silent generation that finally spoke out when he came calling.
As another city goes through a familiar cycle of shock and grief, Bernstein's words offer a glimpse of the humanity that the worst kinds of horror cannot destroy.
Q: How was the reaction to this tragedy different than what we're seeing in Aurora?

A: While the people of Bath weren't any different than the people of our times, it was a different time, a different era. These days, we have better coping mechanisms. We have counselors and all kinds of different support systems.
Back then, they didn't talk about it, period. They were farmers, and they had to go back to work. Your cow couldn't take a day off for a tragedy.
And there wasn't a media frenzy like today. The media came in and left. Three days after it happened, Lindbergh took off and flew to Paris, and that part of it was over.
---