DOJ defends its Apple lawsuit
(Read article summary)
After public complaints by Sen. Charles Schumer and others, the DOJ says it's not wavering in its lawsuit against Apple and five major US publishers.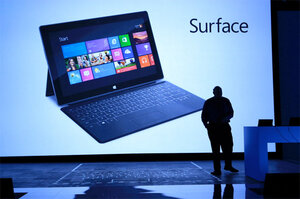 Rene Macura/AP
The Justice Department's 66-page response to the 868 (overwhelmingly negative) comments it received about its e-book price fixing case can be summed up in three words: take a hike.
In response to these and other public complaints about the lawsuit (see Sen. Charles Schumer), the Department of Justice, perhaps not surprisingly, staunchly defended its case against Apple and five major publishers, insisting they conspired to raise the prices of e-books.
The DOJ's investigation into sharp upticks in e-book prices upon the launch of Apple's iBookstore in 2010 "uncovered significant evidence that the seismic shift in e-book prices was not the result of market forces, but rather came about through the collusive efforts of Apple and five of the six largest publishers in the country," according to a US federal court filing in New York.
(The Wall Street Journal reported that the DOJ's suit claims "executives of the major book publishers met regularly in private dining rooms of upscale Manhattan restaurants to discuss how to respond to steep discounting by Amazon.com Inc.")
---