'Magic Tree House': Author Mary Pope Osborne looks back
(Read article summary)
The children's series about siblings who travel through time via a magical treehouse is celebrating its twentieth anniversary.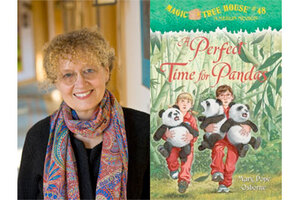 L: By Elena Seibert
A tiny wooden structure just for you, filled with books and toys, nestled in the branch of a big sapling with the wind rustling through the leaves. What could possibly improve a treehouse?
Just ask children's fiction protagonists Jack and Annie. The stars of Mary Pope Osborne's Magic Tree House series are the possessors of just that, a magic structure that they use to travel through time and space and embark on adventures. The series currently consists of more than 40 books, including the newest, "A Perfect Time for Pandas," which was just released on July 24. The first 28 books follow Jack and Annie and their travels through time, while the rest center on the characters meeting up with famous wizard Merlin, who gives them tasks to accomplish as they go to each time period.
The series also consists of Fact Tracker books, nonfiction titles which delve into topics covered in the books such as dolphins and ancient Egypt.
The "Tree House" books have been adapted into a stage musical, co-written by Osborne's husband Will Osborne, and the book "A Good Night for Ghosts," in which Jack and Annie meet jazz musician Louis Armstrong, will be the basis for a musical titled "Magic Tree House: A Night In New Orleans," also co-written by Osborne, that will premiere at the James Moody Democracy of Jazz Festival in Newark in October.
Author Mary Pope Osborne, who recently donated 28-book sets of the series to every third-grade student and teacher in Newark, N.J., discussed how she settled on a treehouse as a mode of transport, how she hopes to inspire kids about history, and which of the books young readers love the most. Here are excerpts of the interview.
---