First official Harry Potter book club is formed
(Read article summary)
Through the Harry Potter book club, J.K. Rowling will answer readers' questions via a classroom webcast.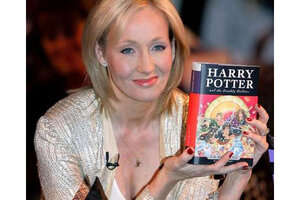 Leave it to J.K. Rowling to dream up a way to make back-to-school season more exciting.
We're betting gads of pint-size Potter fans will be lining up outside their classrooms on October 11, when Rowling will make a virtual tour of US classrooms via live webcast, the first opportunity for the author to answer readers' questions live since her last book hit shelves in 2007. Through a Scholastic-organized webcast from the author's home in Edinburgh, Scotland, Rowling will answer pre-submitted questions and discuss all things Potter, including the recently launched website, Pottermore.
The webcast is organized in conjunction with the first official Harry Potter Reading Club, an online portal geared toward educators, librarians, and parents, to encourage budding Potterphiles to read and to explore the world of Harry Potter. The site, which was launched with much less fanfare than Pottermore, appears to be geared toward younger readers.
Scholastic called it a destination for fans of Potter and a tool for parents and teachers to set up book clubs of their own.
"Scholastic has been in conversation with educators, librarians and other book lovers about ideas for bringing the Harry Potter books to new readers in exciting and different ways," Ellie Berger, president of Scholastic Trade, said in a statement announcing the club.
---