'Why Nations Fail': Will this be China's century?
(Read article summary)
MIT economist Daron Acemoglu analyzes the Chinese system and the challenges the country may face.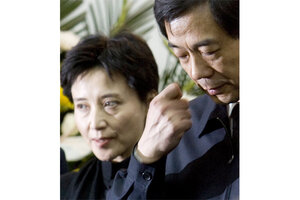 Alexander F. Yuan/AP
Monitor managing editor Marshall Ingwerson chats with 'Why Nations Fail' co-author Daron Acemoglu.
Will this be China's century?
About as much as the last century belonged to the Soviet Union. That's the lesson of history, according to Daron Acemoglu, an MIT economist and co-author of "Why Nations Fail" with political scientist James Robinson of Harvard. Their study of the rise and fall of economies all over the world through much of recorded history leads them to conclude that China will top out at a level of wealth per person less than half that of the US or Western Europe. China is currently on a course to reach, by the late 2020s, about a third of US per capita income and about 40 percent of US levels sometime in the 2030s. That's the level at which it is very difficult for a "copycat" economy – one that imports its innovation from abroad – to make further progress.
A good analogy to China today is the Soviet Union in the middle of the 20th century, when it was driving its agrarian economy into the industrial age and was among the fastest growing countries in the world. It went as far as it could by adopting the well-established industrial practices of the West, then ran out of steam in the 1970s. At some point, the low-hanging fruit is gone.
---