Attention booklovers: Tokyo and Paris are your cities
(Read article summary)
The World Cities Cultural Report reports that Tokyo has a staggering number of bookstores while Paris made it to number one for the most libraries.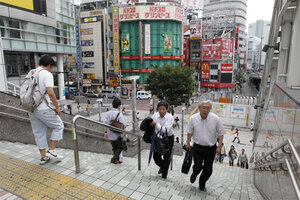 Melanie Stetson Freeman
Pack your bags, book lovers, and start practicing your Japanese. If bookstores make your heart sing, then Tokyo is your city.
That's right, Tokyo has 1,675 bookstores, the most of 12 countries examined in a new study comparing cultural life in top cities across the world. (If it's libraries you're after, then Paris is your pick, with 830 libraries – compare that to New York's 220.)
The World Cities Cultural Report, released this week, examines the cultural offerings of 12 major world cities. The study uses more than 60 measures of cultural activity – think number of museums, number of international tourists, cinema ticket sales, percent of public green space, and number of UNESCO World heritage sites – to highlight each city's strengths and weaknesses.
The quick and dirty? If it's live music you're after, rock on in Paris. Live theater? Broadway, baby (that'd be New York). Laugh it up in London, the city with the most comedy shows. Istanbul's the spot for history buffs, but if you want green space, try Singapore. Gallery-goers will adore Shanghai, which has the most national museums. Gourmands and gamers will love Tokyo, the city with the most restaurants – and video game arcades. And if you're looking to dance the night away, practice your samba and head south to Sao Paulo.
---