'Fifty Shades of Grey' is bestselling book ever in Britain
(Read article summary)
'Fifty Shades of Grey' has passed the 'Harry Potter' books and 'The Da Vinci Code' to become the country's bestselling book.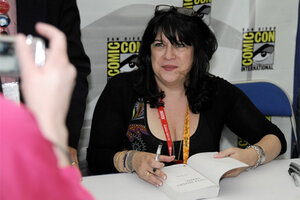 Denis Poroy/Invision/AP
The runaway erotic bestseller "Fifty Shades of Grey" by E L James became the bestselling book in British history this week, surpassing even the "Harry Potter" books and "The Da Vinci Code" by Dan Brown, which had been fellow competitors for the title.
"Fifty Shades of Grey" has sold more than 5.3 million copies counting both print and e-book copies, according to the Guardian. The book's sequels, "Fifty Shades Darker" and "Fifty Shades Freed," have sold 3.6 million and 3.2 million, respectively.
"The whole process has been both extraordinary and rewarding," James said in a statement. "I couldn't be more pleased with the sales and would like to thank everyone involved."
The reaction to the trilogy from the literary world has been mixed. Guardian editor Philip Jones noted that the month of July had been the strongest fiscally for the book world since 2007, not counting Christmas, and credited James with inspiring the upswing.
"Every half-decade the book business comes up with a title that crystallises what it means to put an author in touch with a reader," Jones wrote.
---