Pop-up record store will promote Michael Chabon's new novel
(Read article summary)
Diesel, a bookstore in Oakland, Calif., will be transformed into the fictional Brokeland Records for one week.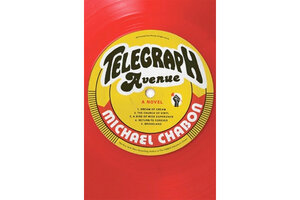 In Michael Chabon's new novel "Telegraph Avenue," old friends Nat and Archy have every reason to worry. They're the struggling co-owners of Brokeland, a used record store in Oakland, Calif. And now a new megastore is set to open up near them on Telegraph Avenue.
But if prospects are dim for Nat and Archy, the opposite seems to be the case for "Telegraph Avenue." With the novel's release set for Sept. 11, HarperCollins is pulling out all the stops on the marketing of the latest book by Chabon, according to a report in The Wall Street Journal.

In order to gain publicity for "Telegraph Avenue," Harper Imprint's marketing team has made plans to take an actual bookstore – Diesel, in Oakland – and transform it into a live counterpart to the fictional Brokeland Records. From Sept. 7 to Sept. 14, the store will sell used jazz records supplied by independent record seller Berigan Taylor.
Brokeland Record signs will be put in the place of the Diesel signs and Brokeland Records' bags, buttons, and stamps will be sold. Diesel's website will also temporarily offer a webpage for "Diesel in Brokeland."
---