Apple blasts the DOJ's proposed e-book price settlement
(Read article summary)
Apple called the DOJ's proposed settlement to the e-book price fixing case 'fundamentally unfair, unlawful, and unprecedented.'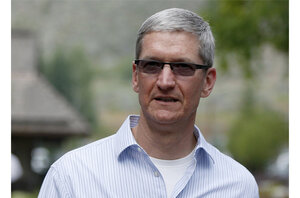 Jim Urquhart/Reuters
If Apple, Penguin, and Macmillan's filings this week voicing opposition to the government's proposed settlement in the e-book price fixing case are any indication, it's going to be a long, drawn-out battle.
Penguin's response to the Department of Justice? "The Emperor has no clothes."
Apple's very first line in its response to the Department of Justice? "Apple has not settled with the Government."
In its five-page memo, Apple blasted the DOJ's proposed e-book price fixing settlement, calling it "fundamentally unfair, unlawful, and unprecedented." The proposed settlement effectively terminates Apple's contracts with the three publishers who have settled "before a single document has been introduced into evidence, before any witness has testified, and before the court has resolved the disputed facts," according to the memorandum.
In its filing, Apple said it never "participated in, encouraged, or sought to benefit from collusion," and said its advocacy of the agency model (in which publishers, not retailers, set book prices) was necessary to break Amazon's monopoly on the e-book market.
The Cupertino company said the DOJ should not penalize Apple with this contract-ending settlement before Apple "has had its day in court" and asked the court to defer judgment until after the trial, some ten months hence. If Apple and the remaining defendants win the trial, it argued, the legality of its original contracts would be validated.
---