Do sad songs make us feel better?
(Read article summary)
Adam Brent Houghtaling explores melancholy music and how it affects us.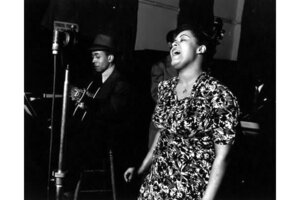 Charles Peterson, Courtesy of Don Peterson/ITVS/AP
Adam Brent Houghtaling, a New York-based author, should be in quite a sour mood by now. After all, he spent months listening to the saddest music ever made, from sorrowful symphonies to tearjerker Billie Holliday tunes to just about every Leonard Cohen song ever.
But Houghtaling, author of the new book "This Will End in Tears: The Miserabilist Guide to Music," is actually pretty chipper, all things – and all songs – considered. His fascinating examination of centuries of downer music is getting plenty of attention, and his ranking of the Top 100 Saddest Songs has spawned debate.
I asked Houghtaling to explain what he's learned and ponder why we like to turn to blue notes, especially when we're notably blue.
Q: What makes sad songs unique?
A: Sad songs are a really intimate thing. They're not something you listen to with all your friends at a dinner party or when you're hanging out at a lake house with your buddies. You're doing it by yourself.
If you're listening to a lot of sad music, it's because you're not in a great state of mind. You've just gotten your heart broken or suffered some kind of loss. It becomes intimate, but it's also comforting in a way.
Q: Can sad songs actually be good for us when we're feeling down?
A: There's this idea that listening to sad songs may drag us deeper into our despair. But it may also help us go deeper into a despair and focus on whatever the problem is that brought us to that point.
Q: Do you mean a kind of catharsis?
---