Please burn your 'Fifty Shades of Grey,' urges one British charity
(Read article summary)
Wearside Women in Need is so outraged by the sado-masochistic bestseller it has organized a "Fifty Shades of Grey" book burning.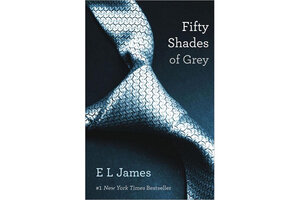 Disturbed by the runaway success of the "Fifty Shades of Grey" trilogy?
You're not the only one.
While some have credited the book with reviving stale relationships and setting off a "Fifty Shades"-inspired baby boom, one British charity is so outraged by the sado-masochistic bestseller it has called for a "Fifty Shades" book burning.
Wearside Women in Need, a charity that focuses on domestic violence, has asked readers to drop off their copies of "Fifty Shades of Grey," which it calls "an instruction manual for an abusive individual to sexually torture a vulnerable young woman," for a Nov. 5 book-burning bonfire.
"I do not think I can put into words how vile I think this book is," Wearside Women director Clare Phillipson told the BBC. "And how dangerous I think the idea is that you get a sophisticated but naïve, young women and a much richer, abusive older man who beats her up and does some dreadful things to her sexually."
Phillipson told the UK's Guardian newspaper that she had been waiting for "a feminist icon to savage this misogynistic crap, but nobody did," so she decided to organize a protest herself.
EL James's "Fifty Shades" trilogy charts the romance between Anastasia, a naïve college student who has an affair with Christian Grey, a handsome billionaire her introduces her to sado-masochistic sex. The books have become a publishing phenomenon, selling more than 20 million copies in a matter of months to become the fastest-selling paperback of all time .
---