Garfield: America's most obscure president may also have been one of its best
(Read article summary)
Biographer Candice Millard talks about the courageous, independent, largely forgotten US president – James Garfield – whose term was cut short by an assassin's bullet.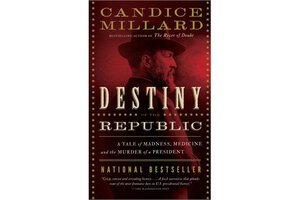 A while ago, I stumbled upon a photograph of President James Garfield and his young daughter Mollie. (You can see it here.) Even though it was taken in the 19th century, a time when just about everyone looked stern in front of a camera – maybe because exposures lasted forever – Garfield appears to be positively delighted.
Are his eyes filled with humor because he's about to tell a joke? Is he just ecstatic to be spending time with his daughter, who's giving the evil eye to someone outside the shot? Or is that grin hidden under his beard just a sign that he's a jolly guy?
Whatever the case, the photo hints that Garfield was a remarkable man. Destiny of the Republic: A Tale of Madness, Medicine and the Murder of a President, one of last year's top bestsellers, confirms it.
"Destiny of the Republic," which our reviewer Erik Spanberg wrote brings back to roaring life a tragic but irresistible historical period," is now out in paperback. I contacted author Candice Millard, who previously wrote the bestselling "River of Doubt" about Theodore Roosevelt's treacherous African trip, to ask about the reaction to the book and what she found when she looked into the fascinating life of this most obscure of presidents.
Q: How did you come across the little-known story of President Garfield?
---