Potential problems for Navy SEAL author of 'No Easy Day'
(Read article summary)
The Pentagon warned Navy SEAL author Matt Bissonnette it was considering legal action for breach of non-disclosure agreements in 'No Easy Day.'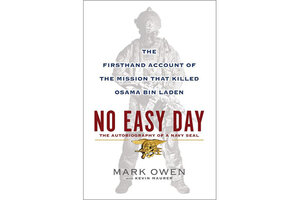 There's more trouble ahead for the US Navy SEAL behind the controversial account of the Bin Laden raid, "No Easy Day," recently revealed to be retired commando Matt Bissonnette.
In a letter obtained by Reuters, the Pentagon warned Bissonnette it was considering legal action for breach of non-disclosure agreements in his first-hand account of the raid that killed Osama bin Laden – and hinted that the government may seize the book's royalties.
"You are in material breach and violation of the non-disclosure agreements you signed," said the letter from Pentagon General Counsel Jeh Johnson, according to Reuters. "The Department of Defense is considering pursuing against you and all those acting in concert with you, all remedies legally available to us in light of this situation."
The letter was addressed to "Mark Owen," the pseudonym under which Bissonnette wrote. His identity was revealed by Fox News and confirmed by Reuters soon after the book was announced.
The Obama administration and Pentagon officials have said they were surprised by the announcement of "No Easy Day," and had no prior knowledge of it. Early reviews suggest Bissonnette's account in the book contradicts previous accounts by White House officials, particularly as to whether Osama bin Laden presented a threat when SEALs first fired at him. The differing accounts could potentially raise a public relations nightmare for administration officials.
---