Bret Easton Ellis slams David Foster Wallace on Twitter
(Read article summary)
A decades-long literary feud rears its head again as Bret Easton Ellis uses a new bio of David Foster Wallace as an excuse for trash-talking.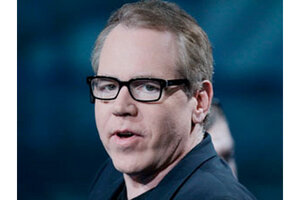 Luca Bruno/AP
Think David Foster Wallace is untouchable?
Think again. "American Psycho" author Bret Easton Ellis tore into the late author of the critically acclaimed "Infinite Jest" and "The Pale King" on Twitter last week, and in true Ellis fashion, he didn't hold back.
"Reading D.T. Max's bio I continue to find David Foster Wallace the most tedious, overrated, tortured, pretentious writer of my generation," Ellis tweeted. "David Foster Wallace was so needy, so conservative, so in need of fans – that I find the halo of sentimentality surrounding him embarrassing." In several more tweets, he continued, "DFW is the best example of a contemporary male writer lusting for a kind of awful greatness that he simply wasn't able to achieve. A fraud."
Ellis's comments came on the heels of a new biography of the late author, D.T. Max's "Every Love Story is a Ghost Story: A Life of David Foster Wallace." (See our review of the biography here.)
In the midst of reading the bio of Wallace, who took his own life in 2008 after a lifelong battle with depression, Ellis told his 300,000 Twitter followers, "OMG is the solemnity of the David Foster Wallace myth on a purely literary level sickening."
---