M.L. Stedman talks about 'The Light Between Oceans'
(Read article summary)
'The Light Between Oceans' author M.L. Stedman discusses her debut novel, her world view, and how her background as an attorney grounds her as a writer.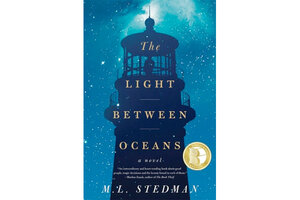 "Haunting." "Atmospheric." "Harrowing." These are the kinds of adjectives readers are applying to "The Light Between Oceans," the debut novel by London attorney M. L. Stedman. Set on an island off the coast of Western Australia (home territory for Stedman), the book tells the story of a World War I veteran and his wife, a childless couple with a loving marriage but no child to share the remote outpost that they call home. This couple – with a single breathtaking decision – set into motion an unimaginable course of events. I recently spoke with Stedman about her book.
Q: The story of "The Light Between Oceans" is so atmospheric, intense, and – in several senses – remote. How did this story come to you?
A: I write very organically – a picture or phrase or voice turns up in my mind, and I just follow it. For this story, I closed my eyes and could see a lighthouse and a woman. I could tell it was a long time ago, on an island off Western Australia. A man appeared, and I sensed he was the lightkeeper, and it was his story. Then a boat washed up, carrying the body of a dead man. I kept looking and saw there was a baby in it too, so I had to keep writing to see who all these people were and what happened next.
Q: Several of your characters face difficult ethical dilemmas. Some make poor decisions, but in the end, as we come to understand them, most turn out to be quite sympathetic people. Would you say that this reflects your world view?
---