'The Hobbit' – a new film trailer (+ video)
(Read article summary)
The new trailer for 'The Hobbit' includes more glimpses of Gollum as well as new characters like the wizard Radagast the Brown.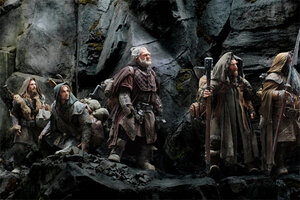 Warner Bros./AP
A new two-and-a-half-minute trailer for the first installment of "The Hobbit" arrived online this week, just in time for the 75th anniversary of the publication of the book, which will be celebrated on Friday.
The preview features the reappearances of several "Lord of the Rings" characters, including wise wizard Gandalf (Ian McKellan), elves Elrond (Hugo Weaving) and Galadriel (Cate Blanchett), and Gollum (Andy Serkis), whom Bilbo encounters and must engage in a battle of riddles.
The character of Thorin (Richard Armitage), the leader of the company of dwarves which Bilbo joins in an attempt to take back the dwarves' home from the dragon Smaug, also makes several appearances.
The trailer begins with Gandalf explaining the dwarves' quest, after which the dwarves show up at Bilbo (Martin Freeman)'s home.
---