What books to assign to a group of inmate-students?
(Read article summary)
Dickens or Denisovich? Mailer or Malamud? This professor agonized over the reading list for a class of prison inmates.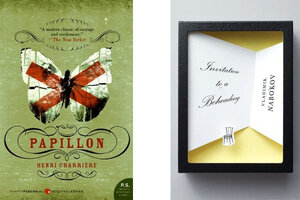 The classrooms did not have Wi-Fi installations. Outlets were few and far between (and not all had been charged with current). No matter; none of the students would be perched behind computer screens.
In fact, there was no Internet connection on the "campus" – nowhere, anywhere, on "campus." No matter; few of the students (many of whom could barely squeeze their muscled bulks into the opening encompassed by a laminated tablet-arm desktop that is connected to an injection-molded plastic seat by tubular metal struts) have any facility with the most rudimentary computer, let alone a smartphone, let alone an iPhone5. The students are housed in quarters that are entirely removed – cyberly and otherwise – from the world of WLANs, WNICs, spread-spectrums, orthogonal frequency-division multiplexing....
The students are cordless, router-less and cyber-less for the length of their "enrollments." Their personal access points, interconnectivity and interface are limited by cellblocks and Department of Correction regimens. They are inmates – prison inmates.
My job: Devise a curriculum that would:
engage and "hold" inmate-students who had qualified for and then earned (through behavior and resolve) the opportunity to try their hand (and handwriting) at a college course or two
prompt reader-response essays that would accumulate to warrant community college course credit
be acceptable (somehow) to Department of Correction officials in Connecticut and New York, respectively (assuming that these officials would actually know of and seriously contemplate the selections itemized in my proposed list of readings)
---