Amazon's Kindle Paperwhite receives rave reviews
(Read article summary)
Called 'the best e-reader you can buy,' the Paperwhite has debuted to almost universal praise.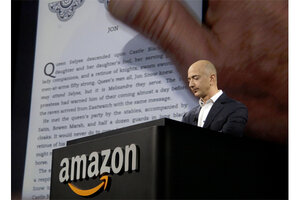 Reed Saxon/AP
The reviews are in and, by most accounts, Amazon's Kindle Paperwhite is a glowing success.
"Amazon's New Kindle is The Best E-Reader You Can Buy," trumpets Business Insider, which calls it "the only e-reader you should consider buying." "The Screen Makes it the Best E-Reader Yet," says Time, adding in the article, "it's a joy." PC Tablet calls it "one of the most technologically advanced readers," NBC News calls it "the new king of e-readers," and TechCrunch says it's "a reader's dream."
With its October release, we're guessing Amazon is angling to get its Paperwhite e-reader on readers' gift lists this holiday season.
Amazon began shipping the e-reader Monday. The Paperwhite comes in two versions, WiFi only and WiFi/3G. Base prices, in which readers will encounter ads, are $119 for the Wi-Fi and $179 for the Wi-Fi/3G.
We checked out more than a dozen reviews online, and, besides a few minor complaints, they were overwhelmingly positive. The most touted feature of the new Paperwhite is its improved paper-like backlit LED screen. Reviewers are praising the new screen, which uses built-in LED backlights to uniformly illuminate the screen for comfortable paper-like reading in all environments, from bright sunlight to pitch-black rooms – all with far less eye strain. Still based on E-Ink, the screen has better resolution and contrast than older models, with more sharp, crisp text.
The Paperwhite's other features include:
---