Bill O'Reilly returns to presidential assassinations with his new book 'Killing Kennedy'
(Read article summary)
Fox News host Bill O'Reilly's second book comes after his previous title, 'Killing Lincoln,' met with controversy for its alleged historical inaccuracies.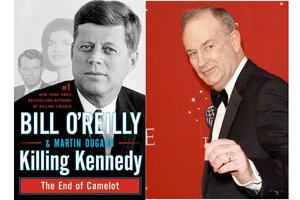 R: Reuters
He's done it again. Bill O'Reilly, host of Fox News's "The O'Reilly Factor," self-described "champion bloviator," and chronicler of presidential assassinations including the bestselling "Killing Lincoln," just released another presidential thriller.
"Killing Kennedy: The End of Camelot," co-written with Martin Dugard, chronicles the 1963 assassination of President John F. Kennedy with all the suspense and drama of a popular thriller (and, by some accounts, few of the citations of a history book).
"Killing Kennedy" seems destined to enjoy the same success as "Killing Lincoln," which sold more than 2 million copies since its release a year ago. "Kennedy" hit shelves this Tuesday and is already #2 on Amazon's bestseller list, above even J.K. Rowling's "The Casual Vacancy."
Of course, everything about O'Reilly, including his literary success, draws controversy. Some historians, including a deputy superintendent at Ford's Theatre, found errors in O'Reilly's "Killing Lincoln" as well as a serious shortage of documentation. (At one point, Ford's Theatre, site of the assassination, even refused to carry the book.)
---