Syrian author Samar Yazbek is honored as an 'International Writer of Courage'
(Read article summary)
Yazbek, whose revolution diary has shed light on life under the Assad regime, received the PEN/Pinter 2012 award for an author who has 'fierce intellectual determination'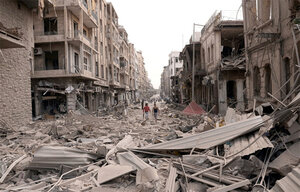 SANA/AP
Literature reminds us that there are many kinds of courage and battles are fought not only on the ground but also in the pages of a book. Syrian author and journalist Samar Yazbek has fought Syria's Assad regime in the pages of her own book, "A Woman in the Crossfire," a revolution diary of sorts which, along with her vocal opposition to the Assad regime, has forced the author into exile.
For this Yazbek was granted the 2012 PEN/Pinter International Writer of Courage prize Monday. She will share the award with 2012 PEN/Pinter Prize winner British poet Carol Ann Duffy, who helped choose Yazbek as the award recipient.
The annual award, granted in honor of the late playwright Harold Pinter, is given to a British writer of outstanding literary merit. The winner then chooses a recipient for the Writer of Courage Award, which recognizes an international writer who shows "fierce intellectual determination."
"Giving the PEN/Pinter international writer of courage prize to the author of the Syrian revolution's diaries is an important sign of the recognition of the Syrian people's struggle," Yazbek said of the award. "The honor is dedicated to the martyrs of the Syrian revolution, and to all those women who are working in silence, in particularly difficult circumstances inside Syria, and to those who move among the downpour of bullets and artillery fire, the tanks and fighter jets, in order to carry on the revolution of the Syrian people toward establishing a free and democratic society."
---