A thriller by Spiro Agnew? Strange but true
(Read article summary)
Spiro Agnew's thriller 'The Canfield Decision' is less than a literary masterpiece.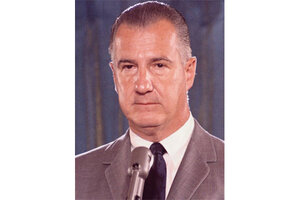 AP
The 1970s-era thriller begins with a description of a man admiring a mountain range from an airplane.
"Far off in the west, the Sierra Nevadas made the horizon a jagged blue-gray pencil line," the author writes in the book's first paragraph. "It reminded Galardi of a sales graph, with Mount Whitney being a very good week."
Who on earth would link natural beauty to something you'd see on a screen in a conference room?
Spiro Agnew, that's who, the man who guaranteed that neither Joe Biden or Paul Ryan will ever become the first vice president to pen a Robert Ludlum-style bestseller. Agnew was there first with 1976's "The Canfield Decision." You remember, "the most controversial bestselling novel of the year."
OK, you probably don't remember the book. And if you're not of a certain age, you may be unfamiliar with Agnew himself. Here's a refresher: He was a disgraced ex-vice president described on the back of the $1.95 paperback edition of the book as "the most outspoken and controversial of the President's men." (The president was one Richard Milhous Nixon.)
I learned about the book while lost in a Wikipedia wormhole, endlessly clicking from one intriguing entry to another. Somehow I landed on the "American politicians convicted of crimes" page, which led me to the article on the late Agnew's life and a mention of "The Canfield Decision."
A few clicks later, a 36-year-old paperback was on its way to my door. It has that delicious musty smell of an old book, several positive and positive-ish blurbs ("Fascinating and exciting" – Merv Griffin; "Interesting" – Harper's), and evidence of a torn-out insert advertisement. No surprise: it was published back in the days when paperbacks came with ads for tobacco companies and didn't cost $16.95.
---