'Charlotte's Web' celebrates its 60th anniversary
(Read article summary)
The E.B. White classic 'Charlotte's Web' – about a pig named Wilbur and his best friend, a spider named Charlotte – was published 60 years ago today.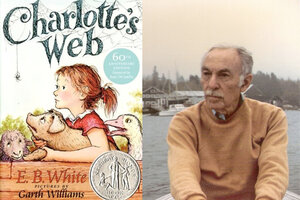 R: Courtesy of the E.B. White Foundation
Classic children's novel "Charlotte's Web" by E. B. White is celebrating the 60th anniversary of its publication today.
The novel, which first appeared in 1952 illustrated by Garth Williams, tells the story of a pig named Wilbur living on a farm, his youthful owner, Fern, and his friend Charlotte the spider, who comes up with an innovative way to save Wilbur from becoming a meal. The book won a Newbery Honor and, with White's other children's novel "Stuart Little," won the Laura Ingalls Wilder Medal.
White moved to a farm in Brooklin, Maine, now known as the E.B. White House, in 1933 with his wife, and his experiences with the animals there is said to have been the inspiration for the story.
Biographer Michael Sims recalled how the novel's bittersweet ending, in which Charlotte the spider dies, strongly affected White when he was recording an audio book version of the story.
---