Booker Prize nominee Tan Twan Eng talks about his novel 'The Garden of Evening Mists'
(Read article summary)
Malaysian writer Tan Twan Eng: how to write historical novels that are also timeless.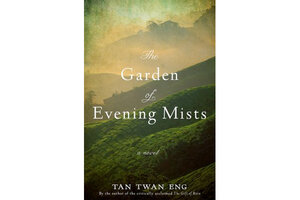 Tan Twan Eng and I met recently at a rooftop café in Cape Town to chat about his second novel, "The Garden of Evening Mists," which has been shortlisted for the 2012 Man Booker Prize. (His first novel, "The Gift of Rain," made the 2007 Booker long list.) The 40-year-old author prefer to winter in Cape Town and spends the rest of the year in his native Malaysia.
As a writer whose novels are categorized as historical fiction, Tan is also concerned with the legacy of the books themselves, with an eye to future generations of readers.

"A book with an historical setting can remain timeless if the story is very strong on human themes," says Tan. "Relationships, aging, love. [A book like that] has a good chance of standing the test of time." He cites South African-born novelist J.M. Coetzee's "Waiting for the Barbarians" as a tale that manages to be both political and timeless.
He's also finely attuned to writing for readers from different backgrounds. "It's a difficult balance to strike because I'm aware that a lot of readers are non-Malaysians," says Tan. "Malaysian writers are at a disadvantage because there haven't been other Malaysian writers being read by a worldwide audience."
Compared to, say, an Indian writer who can invoke Bombay with a single word, Tan needs to unpack details without slowing down the story for Malaysian readers. For example, one passage reads:
"Japanese troops landed in the northeast coast of Malaya, fifteen minutes after midnight and an hour before Pearl Harbor was attacked. People think that Japan entered the war through Pearl Harbor, but Malaya was the first door they smashed open."
---