Amazon will hire 50,000 temporary workers for the holidays
(Read article summary)
Is Amazon's ambitious hiring a sign of good things to come for the US economy?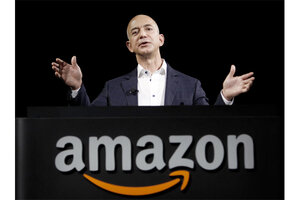 Reed Saxon/AP
If Amazon is holiday central, Santa is bringing in the elves – big time.
Amazon CEO Jeff Bezos announced the company is hiring 50,000 temporary workers at order fulfillment centers across the US ahead of the holidays.
The fact that Amazon is bulking up its workforce ahead of the holidays is nothing new. The online retailer typically swells its workforce around this time of year. What's new is that Bezos is disclosing his company's exact hiring figures. (Until now, he's always kept this information under wraps.) What's more, 50,000 seasonal workers is a significant addition for a company that reports having a total of 69,000 full- and part-time employees worldwide, as the Wall Street Journal reports. And Santa Bezos says he expects "thousands" of those hired elves to stay on full-time.
"Temporary associates play a critical role in meeting increased customer demand during the holiday season, and we expect thousands of temporary associates will stay on in full-time positions," Dave Clark, vice president of Global Customer Fulfillment, said in a statement.
---