CBS will air a sneak peek at Steven Spielberg's new biopic 'Lincoln'
(Read article summary)
'Lincoln' is loosely based on Doris Kearns Goodwin's 2005 biography 'Team of Rivals.'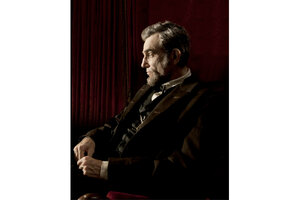 David James/Disney-Dreamworks II/AP
It's the story of an embattled president trying to end one of the country's most destructive wars while bargaining with Congress to see through one of the most transformative pieces of legislation in history.
It's also one of the most anticipated movies of the season – and we're all getting a sneak peek this Sunday.
CBS's Lesley Stahl interviews Steven Spielberg on his upcoming film, "Lincoln," a dramatic look at a four-month period in the life of the sixteenth president. The interview, which airs Sunday, Oct. 21 at 7:30 PM EST, also contains the first clips from Spielberg's film.
"I've always wanted to tell a story about Lincoln," Spielberg tells Stahl in an interview preview released by CBS. "I saw a paternal father figure, someone who was completely, stubbornly committed to his ideals, his vision. I think the film is very relevant for today. It's about leadership."
"Lincoln" is loosely based on historian Doris Kearns Goodwin's 2005 biography, "Team of Rivals: The Political Genius of Abraham Lincoln." (Incidentally, it's also the first read on CBS This Morning's book club, "CBS This Morning Reads.)
---