Pippa Middleton: Why am I famous?
(Read article summary)
Pippa Middleton's writes of her struggle to understand hew new fame in her book 'Celebrate,' which will be released later this month.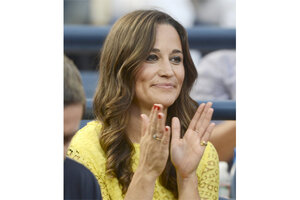 Henry Ray Abrams/AP
Pippa Middleton, sister of the future queen of England, will be releasing her party-planning book 'ÄúCelebrate'ÄĚ later this month, and in the guide, she writes of being baffled by the fame she has achieved based on whom she is related to and her physical appearance.
'ÄúOne day I might be able to make sense of this. In the meantime I think it'Äôs fair to say that it has its upside and its downside,'ÄĚ she writes in the book, according to an excerpt published by You Magazine. "I certainly have opportunities many can only dream of 'Äď but in most ways I'Äôm a typical girl in her 20s trying to forge a career and represent herself in what can sometimes seem rather strange circumstances. I am by nature an optimist so I tend to concentrate on the advantages. One of the most attractive has been the chance to publish [this book] Celebrate.'ÄĚ
Middleton writes that she sees the book as an opportunity to tell the world about her true self.
'ÄúI know many of you will pick up the book out of nothing more than curiosity,'ÄĚ she writes in the book. 'Äú[But] I can assure you that it feels even stranger to me than it probably does to you to have seen so much written about me when I have done so little to paint a picture of myself. This is my first chance to do that and I'Äôve enjoyed every minute of it.'ÄĚ
The book 'ÄúCelebrate'ÄĚ will give party-planning tips and will be published by Viking. The Middleton family runs a supply website for children'Äôs parties. ¬†
---