Millennials: a rising generation of booklovers
(Read article summary)
Death of reading? Not so fast. The millennial generation is more likely to read and use their local library than their parents.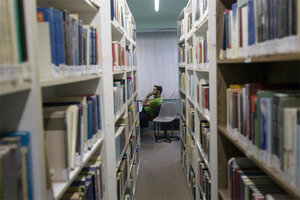 Ronen Zvulen/Reuters
Think the only reading your Facebook-updating, Twitter-posting, Google-addicted Millennial is doing is skimming 140-character-or-less Tweets?
Think again.
Not only is the Facebook generation reading and visiting their local library, they're actually more likely to read and more likely to use their local library.
Yup, that's right – 18 to 29-year-olds are actually reading a whole lot more than tweets, and more than other adults. Some 8 in 10 Americans under the age of 30 have read a book in the past year, compared to about 7 in 10 adults in general.
That unexpected good news comes courtesy of the Pew Research Center's Internet and American Life Project which conducted a study examining the role of books, libraries, and technology in the lives of young readers ages 16 to 29.
"A lot of people think that young people aren't reading, they aren't using libraries," Kathryn Zickuhr, a research analyst with Pew told the New York Times. "That they're just turning to Google for everything."
Pew's findings, it turns out, have proved that notion wrong.
• 83 percent of Americans between the ages of 16 and 29 read a book in the past year, compared with roughly 70 percent of the general population. Some 75 percent read a print book, 19 percent read an e-book and 11 percent listened to an audio book.
• 60 percent of Americans under 30 used a library in the past year. Some 46 percent used it for research, 38 percent borrowed books, and 23 percent borrowed newspapers, magazines, or journals.
The study also revealed some surprising insights about the use of e-books among younger readers. First, not surprisingly, younger readers are more comfortable with reading digital materials – but they aren't ditching print books for digital.
---