Tom Wolfe's 'Back to Blood': preposterous, contrived, yet wildly entertaining
(Read article summary)
Tom Wolfe's 'Back to Blood' tries to do for Miami what his previous novels did for New York and Atlanta, but critics say he falls short.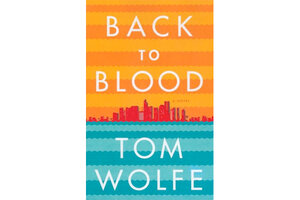 After an 8-year hiatus, Tom Wolfe is back in Wolfian style, taking on another city (Miami) with a sweeping social portrait painted through a cast of larger-than-life characters tackling familiar Wolfian themes: race, class, social striving, vanity, and prejudice.
"It's really a novel about immigration," Wolfe tells the UK's Telegraph about his new novel, "Back to Blood." "Miami is a melting pot in which none of the stones melt. They rattle around. A lot of Russians are there now, Haitians, Nicaraguans. Miami is plan B for everyone in Latin America at this point. And everybody hates everybody, as my guide put it."
"Back to Blood," Wolfe's first novel after 8 years, tries to do for Miami what "Bonfire of the Vanities" did for New York, and "A Man in Full" did for Atlanta, as The New York Times tells it.
And try Wolfe did. The 81-year-old journalist-turned-novelist carried out years of exhaustive first-hand research – including dropping in at a strip club, participating in an orgiastic yachting regatta, and visiting a slew of black crack slums – before penning this 3-pound, 722-page Goliath that aspires to be a sweeping social novel that tries to tell the story of Miami.
But by most accounts, he fell far short.
The New York Times calls "Back to Blood" "a soapy, gripping and sometimes glib novel that's filled with heaps of contrivance and cartoonish antics."
"This is the sort of material Wolfe used to eat for breakfast, back in his journalism days," writes the LA Times, adding, "The plots he creates feel contrived in comparison to those he has discovered in the world."
---