'The Book Thief' comes to the stage
(Read article summary)
'The Book Thief,' the popular children's book by Markus Zusak, is playing at the Steppenwolf Theater in Chicago through early November.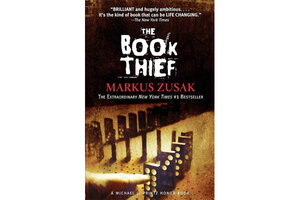 Popular children's book "The Book Thief" by Markus Zusak has been turned into a stage play that debuted at the Steppenwolf Theater in Chicago.
The adaptation was written by Heidi Stillman and is directed by Hallie Gordon. It will run at the theater through Nov. 11. "Thief" is narrated by Death, who tells the reader the story of a young girl living in Nazi Germany who loves to read.
Stillman said the complex plot was a challenge to adapt into a show.
"There was some wrestling to do to get it into a play shape," she told the New York Times. "But [the book is] super-theatrical."
Gordon said she believes the story of people making a difference during the time of the Nazis is one that can translate to standing up to injustice today.
"This raises the discussion about their compassion and doing the right thing under the worst possible circumstances," she said in an interview with the Chicago Tribune. "That's really the conversation we want to have [with young people]. Look at this family and the choices they are making. What are the positive choices you are making in your own community?"
---