Hurricane Sandy's predecessor, the Great Hurricane of 1938: What can we learn from it?
(Read article summary)
Historian Cherie Burns discusses the 1938 natural disaster that shocked New England.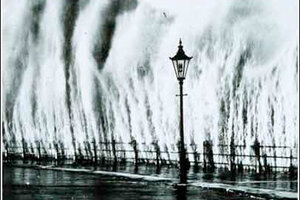 Back in the 1930s, many New Englanders liked to say that hurricanes never hit their part of the country. They discovered their assumptions were incorrect on a Wednesday afternoon in September 1938.
The Great Hurricane of 1938 slammed into Long Island and Rhode Island, killing 564 in southern New England. Thousands of buildings and boats were destroyed.
Historian Cherie Burns wrote about the disaster in her 2005 book "The Great Hurricane: 1938." Publishers Weekly raved, "From start to finish, this powerful story of nature's fury and human survival pulls the reader in and doesn't let go."
I reached Burns at her home in Taos, N.M., this week and asked her about the state of weather prediction back then, the human stories of the catastrophe and the lessons of the hurricane for today.

Q: What's the biggest difference between the 1938 hurricane and Hurricane Sandy?

A: I was marveling over how everything has been forecast about Sandy over the last five days. The reason the hurricane of 1938 was so devastating was that it took people completely by surprise.
People certainly knew about hurricanes and understood them. New Englanders told each other, parents told their children, that hurricanes didn't come to New England. And the weather bureau didn't forecast it correctly.
It took everyone completely by surprise, even on the day it came ashore. People were having picnics on the beach, since New Englanders thought it was fun to go down there and look at these storms.
---