Election season: Remembering the strange election of 1876
(Read article summary)
During the era of Obama and Romney, historian Roy Morris Jr. looks back at the contested nineteenth-century race.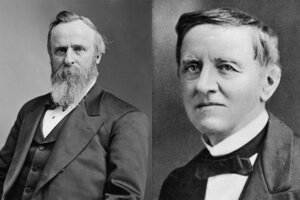 Let's put it this way: you can't take me anywhere.
About 13 years ago, I visited the Jimmy Carter Library and Museum in Atlanta with some friends. For some reason, I decided it would be fun to pose for a photo in the chair behind the desk in the mock Oval Office.
First I tripped over the velvet museum rope. Then the desk chair swung backwards as I sat in it, nearly flipping me over. Finally, I held up the desk's "The Buck Stops Here" sign for the photo and watched helplessly as its little metal holder fell off and clattered onto the floor.
That's when the security guard arrived on the scene. "Step away from the desk, sir."
I did as ordered. But we weren't evicted and even got to continue our tour.
Since then, I've joked that while they're pretty lenient at the Carter museum, folks are even more easygoing at the museum of the mostly forgotten Rutherford B. Hayes. There, you can stay the night in his bed and go home with a piece of his living room couch!
That's not true. (I checked, just in case I ever find myself in Fremont, Ohio.) But Hayes is definitely one of our most obscure presidents. It's a funny thing, since he landed in office thanks to one of the most remarkable – and crooked – presidential elections in American history.
As pundits dream of a tie in the Electoral College this year, I contacted historian Roy Morris Jr., editor of Military Heritage magazine and author of 2005's "Fraud of the Century: Rutherford B. Hayes, Samuel Tilden, and the Stolen Election of 1876."
---