'Hobbit' in the skies: Air New Zealand creates a Middle-earth-themed safety video
(Read article summary)
Working with the 'Hobbit' production team, the airline produced a new safety video that features Peter Jackson and Gollum.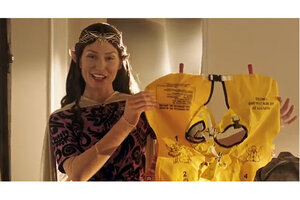 Air New Zealand/YouTube
Put down that Kindle and pay attention to the airline safety video – it may be a little different from what you're used to.
In advance of the first "Hobbit" film coming to theaters Dec. 14, Air New Zealand partnered with Weta Workshop, the special-effects and prop company behind the "Lord of the Rings" and "Hobbit" films, to create a special in-flight safety video for the airline with a Middle-earth theme. The movie features flight attendants dressed as elves, a captain that bears a passing resemblance to wizard Gandalf the Grey, and a cameo by "Hobbit" director Peter Jackson as well as everyone's favorite ring lover, Gollum.
"Welcome aboard this Air Middle-earth flight," the female flight attendant proclaims to an audience of passengers that includes normally dressed humans and also consists of what looks like elves, hobbits and dwarves.
---