Independent booksellers refuse to stock Amazon titles
(Read article summary)
First Barnes & Noble, then Indigo Books and Music and Books-A-Million – now some indie bookstores are choosing not to add Amazon-published titles to their bookshelves.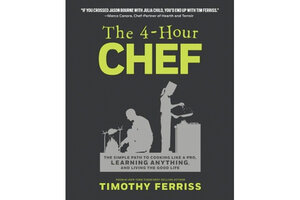 It started with some 700 Barnes & Noble stores. Then 250 Indigo Books and Music stores hopped on board, followed by 200 Books-A-Million stores.
Now independent booksellers are joining the bandwagon, continuing an Amazon boycott of sorts by refusing to carry books published by Amazon.
"At a certain point you have to decide how far you want to nail your own coffin shut," Michael Tucker, owner of a Books Inc. chain in San Francisco, told the New York Times. "Amazon wants to completely control the entire book trade. You're crazy if you want to play that game with them."
The Times piece focuses on an upcoming Amazon book, "The 4-Hour Chef," by bestselling author Timothy Ferriss. Ferris' previous two books, "The 4-Hour Workweek," and "The 4-Hour Body," published by Crown, were bestsellers, ranking well on Amazon. Ferriss was lured away to Amazon with a seven-figure contract for "The 4-Hour Chef." As publication approaches, the book is still flagging, ranking at No. 597 in books at Amazon and 4,318 in the Kindle Store. (An updated edition of "The 4-Hour Workweek" published in 2009 was 328 in books and 2,723 in Kindle, by contrast, according to the NYT.)
And Michael Tucker's Books Inc. isn't the only store sitting out. Many indie stores surveyed by the Times either refused to carry Amazon books or said they would special order only if asked. (A few were carrying books published by the new Amazon-Houghton Mifflin Harcourt line, New Harvest, but grudgingly.)
---