Romney's loss: How he compares to other presidential also-rans
(Read article summary)
Writer Scott Farris, author of 'Almost President,' discusses how the former presidential nominee stacks up against other men who lost their bid for the highest office in the land.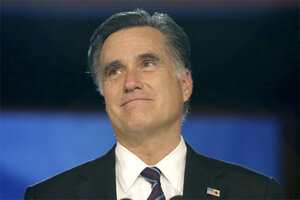 Charles Dhaparak/AP
My spell-checker doesn't like losers.
It recognizes presidential last names, even Fillmore, Van Buren, and Coolidge. But it's dumbfounded by McCain and McGovern, let alone Willkie, Frémont, and Breckinridge.
Such is the fate of most of the major candidates who make it onto presidential ballots, but no further. Some are forever forgotten (Thomas Pinckney, anyone?). But others manage to make a mark despite coming up short.
Where will Mitt Romney fit in? For perspective, I contacted author Scott Farris, a leading specialist in presidential also-rans who wrote 2011's "Almost President: The Men Who Lost the Race but Changed the Nation."
Farris has some experience with the phenomenon of non-winning: he's run campaigns, been a political columnist, and even ran for Congress in Wyoming in 1998. (He lost.)
From his home in Portland, Ore., Farris considered Romney's options, pondered the fates of the second-placers, and looked back at a sore loser or two.

Q: What's next for Romney?

A: He's made it clear – or at least his wife has – that this is his last campaign. That eliminates the option of the loser making one more run at the presidency, which doesn't happen as often as it used to.
---