Obama shops local again on Small Business Saturday
(Read article summary)
After visiting a Washington bookstore last year in support of shopping local, Obama and his daughters headed to an indie bookstore in Virginia this past Saturday to continue to promote the message.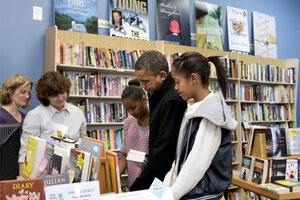 Yuri Gripas/Reuters
He's done it again! Indie bookstore surprise supporter President Obama visited a local bookstore on Small Business Saturday, the second time he's touted the shopping local day (and bookstores) in as many years.
This year Obama took his daughters Sasha and Malia to One More Page Books in Arlington, Va., near Washington. The trio spent about 20 minutes in the store browsing through books and quietly conversing with other shoppers. Then Obama reportedly whipped out his BlackBerry smartphone, on which he made a shopping book list.
"Preparation, you know," he told shop owner Eileen McGervey, according to news reports. "That's how I shop."
Obama and his daughters bought 15 children's books at One More Page Books to be gifted to family, according to the White House. It did not release a list of which books he purchased.
---