'The Hobbit': How to throw your very own Shire-style party
(Read article summary)
Getting excited about the release of the first 'Hobbit' movie? Celebrate Middle-earth style!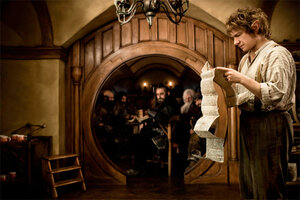 James Fisher/Warner Bros./AP
Hobbits love to eat, and boy, do they know how to throw a party.
If you're a diehard Tolkien fan, you probably already have your midnight movie tickets for "The Hobbit: An Unexpected Journey," director Peter Jackson's first installment in the three-part prelude to "The Lord of the Rings." By now, you're doubtless looking for ways to celebrate the return of hobbits, dwarves, and wizards to the big screen. What better way to celebrate the accomplishment of literary mastermind J.R.R. Tolkien than to throw a party, hobbit-style?
The most important consideration when throwing a hobbit's party is what's on the menu. Hobbits eat seven meals a day, so an abundance of food is completely necessary. Hobbits are also very good hosts and they wouldn't want their guests to leave hungry (and grumpy).
To throw your hobbit feast, here are some scrumptious food ideas:
• Stews – Stews are easy to make (especially if you have a crockpot), feed many, and are extremely delicious. They're not easy to screw up, either, for those of you who aren't the chefs of the family. Throw in your meat (try some rabbit), your fresh veggies (don't forget po-ta-toes), and your broth.
• Meats – Roast, ham, rotisserie chicken, or cold meats for sandwiches. Much of Tolkien's Shire was inspired by rustic villages of England like his childhood home, Sarehole. The same is true for the food. If you're feeling brave, try cooking a traditional British meat pie.
---