'Downton Abbey' insider Jessica Fellowes shares her behind-the-scenes take
(Read article summary)
Fellowes, author of 'The World of Downton Abbey' and 'The Chronicles of Downton Abbey' and niece of 'Downton' creator Julian Fellowes, discusses how the sets keep master and servants separated, why American and British audiences aren't that different, and more.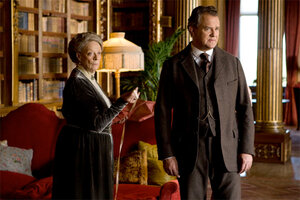 Nick Briggs/PBS/AP
Three years ago, would you have predicted British and American audiences alike would be fascinated by questions like "What are that footman Thomas and lady's maid O'Brien planning?" and "Who will inherit that large estate through British law?"?
But the TV series "Downton Abbey," which airs on ITV in the UK and on PBS in the US and addresses just such questions, has audiences on both sides of the Atlantic hooked. Fans are eagerly awaiting the season 3 premiere of the show in the States on Jan. 6, which will bring the show into the 1920s.
Impatient US fans had a bit of a consolation prize this fall with the release of the book "The Chronicles of Downton Abbey," which shared behind-the-scenes details about the show and discussed the time period in which it was set. Jessica Fellowes, the niece of "Downton" creator, writer and executive producer Julian Fellowes, wrote both "Chronicles" and a previous book, "The World of Downton Abbey" and is also the author of titles including "Is There A Psycho In Your Life?" and "Mud and The City: Do's and Don'ts for Townies in the Country."
In an interview with the Monitor, Fellowes discusses why "Downton" fascinates so many viewers, the secret to the actors getting in character, and more. Here are excerpts from the conversation.
Q: During the process of writing the two books, how often were you on the set when the seasons were being filmed?
---