Anarchy for children? A pro-anarchy kids' book angers the Tea Party
(Read article summary)
'A Rule is to Break: A Child's Guide to Anarchy,' by John Seven and Jana Christy, was called 'downright shocking' by a Tea Party publication and received a blurb from activist Bill Ayers.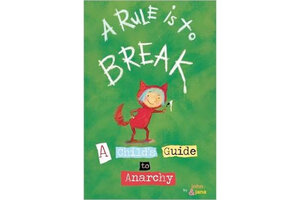 Children's books seem to be the center of controversy lately. First there was the 9/11 coloring book that depicted scenes from 9/11 and the killing of Osama bin Laden. Then there was "Maggie Goes on a Diet," which encouraged young girls to diet.
This latest divisive children's book has the Tea Party, Bill Ayers, and even President Obama ensnared in its controversial crosshairs.
"A Rule is to Break: A Child's Guide to Anarchy," by husband-and-wife team John Seven and Jana Christy, has some readers up in arms, with one Tea Party publication calling its publication "downright shocking."
Published by Manic D, a small San Francisco press specializing in anarchist and fringe publications including "The Civil Disobedience Handbook," and "The International Homosexual Conspiracy," this 44-page picture book for children ages 4 and up is the press's first foray into children's book publishing, according to Publisher's Weekly.
Its colorfully-illustrated pages contain such advice as "Don't look like everybody else! Be you," "Think for Yourself!" "No Baths Ever Again!" and "Give Away Stuff for Free," along with the more eyebrow-raising "When Someone Says, 'Work!' You Say Why?" and "Do What You Want!...Or do nothing, if you prefer."
---