A book critic's literary tour of Manhattan
(Read article summary)
New York Times critic Dwight Garner stopped at book-centered destinations throughout the Big Apple. 'I was smitten all over again,' Garner wrote after his excursion.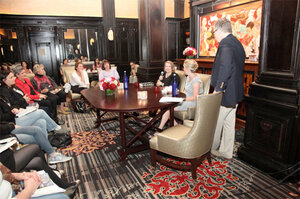 The Algonquin Hotel/PR Newswire
We can't think of a better way to explore New York – or any city for that matter – than by way of a self-conducted literary tour, as book critic Dwight Garner recently did, with energy and exuberance, for The New York Times.
Spread across the pages of the Sunday Times in tantalizing detail was Garner's assignment in "A Critic's Tour of Literary Manhattan": to "crisscross the island for a few days" to determine whether Manhattan's literary life, as novelist Gary Shteyngart once lamented, was fading away.
"I wanted to take in Manhattan as a literary tourist," writes Garner, once senior editor of The New York Times Book Review. "I wanted to touch base with haunts old and new. I wanted to see if there is still, for a certain kind of bibliophilic seeker, as Simone de Beauvoir put it, 'something in the New York air that makes sleep useless.'"
---