The rifle: Its history and its place in the future
(Read article summary)
Historian Alexander Rose chronicles the history of a ubiquitous and deadly weapon.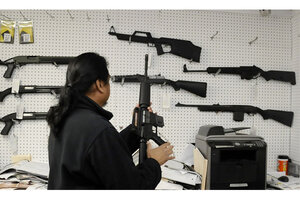 Gene Blevins/Reuters
Rifles aren't new. Far from it, in fact. The firearm that sits in millions of American homes – and became a weapon of mass destruction in this year's horrific killings – has a history that goes back for centuries. Alexander Rose, a New York historian, tracked the history of the ubiquitous weapon in the well-received 2008 book "American Rifle: A Biography."
This week, I asked Rose to look back at the rifle's history, explore its evolution from civilian to military use, and consider its future. Since he focuses on history and technology instead of modern political debates, we left the issue of contemporary gun control for others to discuss.

Q: When did the rifle first appear?
A: The rifle made its first appearance in Europe in the early-modern era, around the 16th century, but there were exceedingly few of them. German immigrants to Pennsylvania in the early 18th century brought their gunsmithing skills and blended English-style muskets with German rifle technology to create a specifically American hybrid, popularly known as a "Kentucky rifle."
At that time, the distinctive difference between a rifle and the standard musket was that the former's barrel was grooved and the latter's was smooth. Among other things, the grooves imparted spin and stability to a bullet as it hurtled through the barrel, allowing it to fly farther and truer than a musket's.The downside was that it took much, much longer to load a rifle than a musket, so it was really a question of quality versus quantity.

Q: Was the rifle initially used for hunting or for military uses?

A: Paradoxically for a gun so closely identified with the military, the rifle began life as a weapon you'd have around the house – if you lived in a cabin in the woods and mountains of the 18th-century frontier – because you needed it for protection and, most importantly, hunting.
---