The apostle Paul: One of the important influences on Christmas
(Read article summary)
Biblical historian James D. Tabor discusses Paul's influence on Christianity and the way that we celebrate Christmas.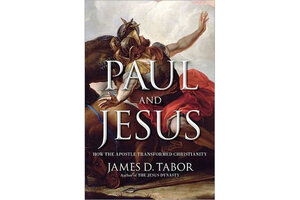 When the world celebrates Christmas this week and Easter next year, it will walk in the steps of the apostle Paul. While he never met Jesus, Paul played a crucial role in focusing early Christianity on Jesus's birth, death, and resurrection.
In his new book "Paul and Jesus: How the Apostle Transformed Christianity," biblical historian James D. Tabor explores how this one man – stubborn, cranky and powerful – forever influenced a fledgling faith.
In an interview, I asked Tabor, chair of religious studies at the University of North Carolina at Charlotte, about Paul's teachings, his impact, and the never-ending debate over his legacy.

Q: How was Paul important to the development of Christianity?

A: Paul packages things – "I believe this, this and this" – and puts the movement on the road to the wider non-Jewish world and out of the Jewish context.
As Judaism, it's not going to go forth and become a universal faith, particularly considering the observances of Judaism that separate people and make them Jewish, like circumcision. In Paul's day, circumcision was seen as a mutilation [among non-Jews].
This was dropped, along with the dietary laws. The idea was that you didn't have to convert to Judaism in a formal way to be a Christian: You didn't have to say "I'm Jewish" to say "I follow Jesus." You could be baptized and accept Jesus as your savior and be born again, then you would be a Christian. You wouldn't be a Jew.
---