Doris Kearns Goodwin on her bestselling books and the movie adaptation of 'Lincoln'
(Read article summary)
Doris Kearns Goodwin talks about her book 'Team of Rivals,' and what it was like to see her work come to life in Steven Spielberg's 'Lincoln.'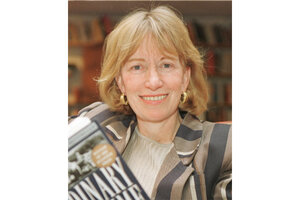 James Rogash/AP
Presidential historian Doris Kearns Goodwin long ago established herself as a writer with the most enviable of careers. Nothing can compare to Goodwin's role as one of the most revered in a long line of biographers of America's 16th president, Abraham Lincoln. Seven years ago, Goodwin published "Team of Rivals: The Political Genius of Abraham Lincoln," a highly successful work now back in the spotlight as the basis of Steven Spielberg's new movie "Lincoln." Goodwin talked with the Monitor's Erik Spanberg about the movie, her role in the making of it, and her next book. Here are excerpts of their conversation.
Q: How does it feel to have "Team of Rivals" back in the headlines?
It's been a wild ride.... I finished the book in 2005 and [Steven] Spielberg got the rights to it in 2000. And it just happened luckily to come out during this time of the lame-duck session [of Congress] so that it sends a connection. We never could have imagined [how timely it would be] so many years ago, when both of us took so long to make the book and the movie.
Q: How did your book catch Spielberg's attention?
---