Presidential biographer Edmund Morris discusses Teddy Roosevelt, Ronald Reagan, and more
(Read article summary)
'I was not drawn to either man because he was president,' says Morris of Roosevelt and Reagan, but instead by 'the enduring fascination of their character.'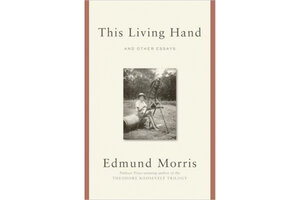 The Badlands in the deepest winter can do strange things to a man. Just listen to Edmund Morris, the bestselling biographer of one of the region's most famous guests: Theodore Roosevelt.
In 1975, four years before Morris published his first biography of the 26th president (the third and final volume arrived in 2010), he traveled to North Dakota to get a better sense of Roosevelt. In a subsequent essay written for The New York Times, the ghost of TR chats with his future biographer in a couple of intermittent historical fiction sequences that foreshadow creative liberties that later troubled critics when Morris chronicled the life of another Republican president, Ronald Reagan.
When the ethereal president vanishes, Morris describes the endless silence of the Badlands. "It was such," he writes, "that I could hear the dull jostle of ice floes in the nearby river."
TR, along with Reagan, Thomas Edison and Beethoven, comes up for examination in "This Living Hand," a collection of Morris' essays spanning his writing career.
Unlike most presidential biographers, Morris isn't especially enamored of commanders-in-chief living or dead. Instead, he found the personalities of TR and Reagan to be sui generis. As for Beethoven, Morris retains a long-running passion for classical music and aspired to become a pianist as a young man.
---