Publication of a book on Scientology is cancelled in the UK after legal threats
(Read article summary)
Lawrence Wright's book 'Going Clear: Scientology, Hollywood and the Prison of Belief' was yanked by its UK publisher Transworld but will still be released in America.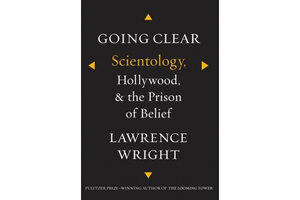 Not since "The Satanic Verses" has a book caused so much controversy within organized religion.
But then again, "Going Clear: Scientology, Hollywood and the Prison of Belief," is no ordinary book.
In fact, author Lawrence Wright's less-than-complimentary look at Scientology has proved so controversial that the book's UK publisher, Transworld, has cancelled its publication in the face of legal threats.
(American publisher Knopf still plans to publish the "Going Clear" January 17, with a reported print run of 150,000 copies.)
The book explores the history of Scientology, through stories about its founder, L. Ron Hubbard, as well as celebrity Scientologists like Tom Cruise and John Travolta. Among other details, it claims that the church has "virtually imprisoned some of its members, threatening blackmail if they try to leave, and that its current leader, David Miscavige, has physically abused some of his underlings," according to a recent piece on the book in The New York Times.
The book is based on a 2011 New Yorker article, "The Apostate," which Wright wrote after interviewing screenwriter and director Paul Haggis, who resigned from the organization.
"The famously litigious Church of Scientology," as well as celebrities belonging to the church sent "innumerable threatening letters" to Wright and his publishers, according to the Times.
It was, apparently, enough to persuade Transworld to back away from publishing the book in the UK, where it is easier to sue for libel than in the US.
---