Poet Richard Blanco is chosen as inaugural poet for 2013
(Read article summary)
Richard Blanco – who will compose an original poem to recite at Obama's Jan. 21 swearing-in – will be the first Latino, the first openly gay, and youngest inaugural poet ever.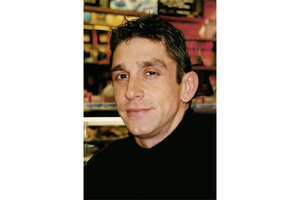 Nikki Moustaki/University of Pittsburgh Press/AP
Poet Richard Blanco joined the ranks of notables like Robert Frost and Maya Angelou when the White House Wednesday named him the 2013 inaugural poet. Blanco is the first Latino, first openly gay person, and youngest poet chosen for the esteemed role.
As inaugural poet, Blanco, the son of Cuban exiles who has professed a deep "spiritual" connection with President Obama, must compose an original poem to recite on the steps of the Capitol at the president's swearing-in January 21.
"Richard's writing will be wonderfully fitting for an inaugural that will celebrate the strength of the American people and our nation's great diversity," Obama said in a statement Wednesday.
"I'm beside myself, bestowed with this great honor, brimming over with excitement, awe, and gratitude," Blanco responded in a statement. "In many ways, this is the very 'stuff' of the American Dream, which underlies so much of my work and my life's story – America's story, really. I am thrilled by the thought of coming together during this great occasion to celebrate our country and its people through the power of poetry."
Born in Spain to Cuban exiles and raised in Miami, Blanco worked as a civil engineer and composed poetry for two decades before devoting himself to writing full-time in Bethel, Maine, where he lives with his partner.
---