Whole Foods' John Mackey speaks out against Obamacare while promoting his new book
(Read article summary)
Mackey's book, 'Conscious Capitalism,' discusses how he practices responsible business with Whole Foods.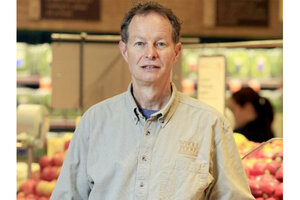 Richard Drew/AP
Thanks to his unorthodox philosophy and a recent kerfuffle over the use of the term "fascism," a certain grocery store CEO's book is getting a lot of attention this week.
In "Conscious Capitalism: Liberating the Heroic Spirit of Business," Whole Foods co-founder and CEO John Mackey puts forward a bold, and controversial, perspective on running a business. His philosophy, the perhaps oxymoronically named "conscious capitalism," has earned Mackey a legion of fans as well as detractors who have vowed to boycott Whole Foods in opposition to the CEO's approach.
"Conscious Capitalism" explains Mackey's maverick philosophy on business, a view which advocates that companies must have a higher purpose than simply making money. In Mackey's view, that higher purpose is creating value and lifting people out of poverty and he argues that we need to redefine capitalism as such to flourish as a society.
"My co-author Raj Sisodia and I describe this as a way of thinking about business to ensure that it is grounded in a higher purpose to enhance its positive impact on the world," Mackey said in an interview with Forbes. "When reinvented in this way, capitalism is an extraordinarily powerful system of value creation mutually benefiting all stakeholders."
---