'Games Without Rules' dominate Afghanistan's tangled history
(Read article summary)
Afghan-American author Tamim Ansary tracks the past of his native country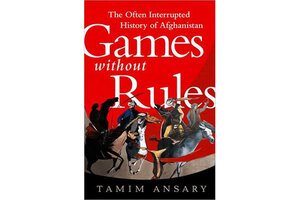 Tamim Ansary was born in Kabul, Afghanistan, to a father believed to descend from Arab brothers who conquered the city some 13 centuries ago. According to legend, their bodies remain to this day in a pair of hillside tombs where they have company in the form of spirits known as djinns. Considering that history, it's perhaps fitting that Ansary has spent much of his life trying to understand the ghosts that haunt the foreigners who endlessly try to run things in this great land. Ansary, who became an American author and educator, explores the tangled history of his home country in a gripping and enormously readable new book titled Games without Rules: The Often-Interrupted History of Afghanistan. I called Ansary in San Francisco, where he runs a writers workshop. We talked about Afghanistan's crucial role in the world, the unique ways of its culture and his advice for a president who will spend another four years trying to understand this most foreign of faraway countries.
Q: Why has Afghanistan been a hot spot for so long?
The geographical reason is because it's in the way for people for people going from one major spot to another. That was what defined Afghanistan: You had a Turkish civilization to the north, India to the south, Persia to the west. It was the place where all this overlapped, the place you had to pass through.
---