Amy Poehler will release an 'nonlinear diary,' her first book, in 2014
(Read article summary)
Poehler will release a book inspired by her 'interest in helping young women navigate the adult world.' Poehler recently hosted the Golden Globes and stars on 'Parks and Recreation.'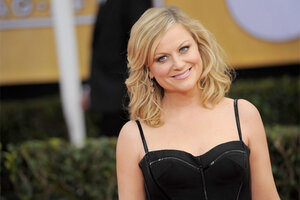 Chris Pizzello/Invision/AP
Amy Poehler has entered into a deal with It Books, an imprint of HarperCollins, to write a book that is scheduled for a fall 2014 release date.
Poehler's book will be a "an illustrated, nonlinear diary full of humor and honesty and brimming with true stories, fictional anecdotes, and life lessons," according to a statement from the publisher, and was "inspired in part by Poehler's interest in helping young women navigate the adult world."
This will be the "Parks and Recreation" star's first book. Poehler was recently nominated for a Golden Globe Award for Best Performance by an Actress in a Television Series – Comedy or Musical, an award for which she was nominated in 2012 as well. Poehler has starred on "Parks" since 2009 and has appeared in such films as "Baby Mama," "Blades of Glory," and "Mean Girls." She starred on "Saturday Night Live" from 2001 to 2008 and has frequently guest-starred on the show since.
---