Robert Frost memorabilia goes on display fifty years after poet's death
(Read article summary)
A collection of Frost memorabilia will be displayed at the University of Buffalo and will run until March 29.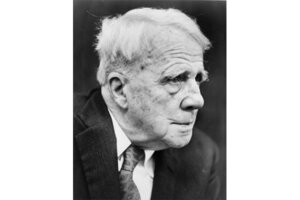 Fifty years after the death of Robert Frost, one of America's most well-known and beloved literary voices, a rare collection of Frost memorabilia is going on display at the University of Buffalo.
The Victor E. Reichert Robert Frost Collection, a treasure trove of letters, recordings, photos, and other items collected over the course of a 24-year friendship between Frost and a Cincinnati rabbi, opens this week at the University of Buffalo.
Nearly 75 years ago, Frost and Rabbi Victor E. Reichert met at a reading in Cincinnati and spent summers together in Vermont, where the Reicherts had a summer home, sharing talks and hiking excursions. Over the years, the pair forged a friendship build on literature, philosophy, and religion. During the course of that friendship, the star-struck Reichert, who was nearly 60 years younger than Frost, saved thousands of Frost-related items, including books with personal messages or quotes from Frost poetry, gifted to Reichert family members; more than 60 photographs of Frost at ceremonies, public events, and in private settings; some 600 newspaper and magazine clippings about Frost; rare Frost chapbooks and holiday publications; and handwritten letters between Frost and Reichert.
Upon his death, Rabbi Reichert left the treasured memorabilia with his son, Jonathan F. Reichert, a retired physics professor who taught for three decades at the University of Buffalo. Reichert, now 81, donated the items to the university just in time for an anniversary display of Frost, who died 50 years ago this month at the age of 88.
---