Blonde 'Anne of Green Gables'? A new cover displeases loyal readers
(Read article summary)
A new book cover for the classic novel 'Anne of Green Gables,' showing Anne as a blonde without freckles lounging in a plaid shirt, has Amazon users up in arms.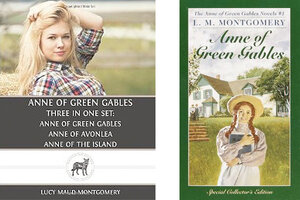 It's doubtful whether many other literary characters are as famous for their physical appearance as is Anne Shirley of "Anne of Green Gables."
Anne (with an "e," thank you), the orphan girl who is adopted by stern Marilla and warmhearted Matthew of Green Gables on Prince Edward Island, often bemoans her red hair and freckles. "Now you see why I can't be perfectly happy," she says tragically soon after meeting her new guardian, Matthew. "Nobody could who had red hair. I don't mind the other things so much – the freckles and the green eyes and my skinniness." (She, in fact, informs him she wishes she had hair of "a glorious black, black as the raven's wing.")
Her appearance is later the subject of one of the novel's most famous incidents, when schoolmate and future husband Gilbert Blythe calls her "carrots," prompting her to break her slate over his head.
So how did Anne end up blonde and unfreckled on the front of a book cover?
Fans are none too pleased with the new edition of the classic novel released by CreateSpace Independent Publishing Platform in which a blonde teenage girl lounges in a plaid button-down shirt. According to Amazon's website, the book was released on Nov. 27.
"Montgomery's iconic Anne is a high-spirited redhead with freckles and a pointed chin, whereas this new Anne is a languid blond with dark roots, a round face and a come-hither look," Irene Gammel, a Montgomery expert, told the Toronto Star.
---